Rabbi Meyer Juzint - Congregation Kesser Maariv
Rabbi Meyer Juzint - Congregation Kesser Maariv
AVAILABLE NOW (RELEASED APRIL 4, 2017)!!!!!
NECHAMAS MEYER: MUSSAR FROM THE PARSHA, BREISHIS AND SHEMOS
BY RABBI MEYER JUZINT!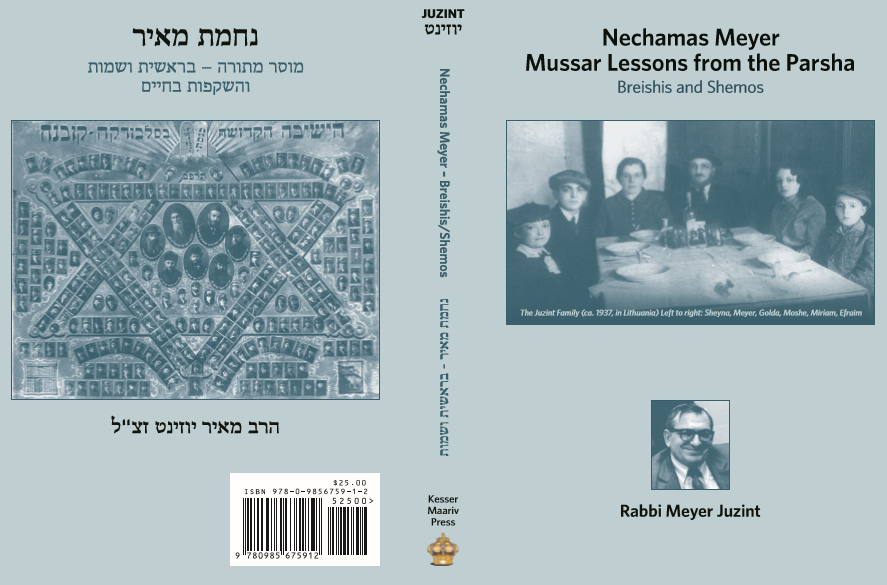 New Hebrew-English edition. 325 pages.
To celebrate the release, we will sell Nechamas Meyer with FREE DOMESTIC SHIPPING through April 30, 2017!!!

Available NOW!!!
from Kesser Maariv Press
The Chain of Miracles
Where can I buy The Chain of Miracles?
Option 1: Buy your book directly from Kesser Maariv - Sunday mornings until 11:00 noon, or Weeknights between 7-8 pm,
Option 2 - order securely online, have it shipped to your door (domestic shipping only):
Domestic Shipping only
Option 3: At the following Chicago-area Judaica bookstores:
Rosenblums - 9153 Gross Point Road, Skokie
Kesher Stam - 2817 W. Touhy, Chicago